General Bathymetric Chart of the Ocean (GEBCO)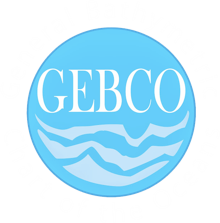 The General Bathymetric Chart of the Ocean (GEBCO) aims to provide the most authoritative publicly-available bathymetry of the world's oceans. It operates under the joint auspices of the International Hydrographic Organization (IHO) and the IOC.
Bathymetric charts have been in existence since the 16th century, but only during the early 1900s were charts starting to become standardised. Since then, 5 editions of the GEBCO chart series have been published and in 1994 the first GEBCO digital atlas (GDA) was created via CD-ROM. The GDA is now available to download online.
In 2017 a new initiative, Seabed 2030 was launched by GEBCO and the Nippon Foundation with the ambitious aim "of producing the definitive, high-resolution bathymetric map of the entire World Ocean".
UK Contributions
The UK is heavily involved in bathymetric mapping and the GEBCO organisation through indviduals and organisations such as the British Oceanographic Data Centre (BODC), the National Oceanography Centre (NOC), the UK Hydrographic Office (UKHO), the British Antarctic Survey (BAS) and the British Geological Society (BGS):
Dr Helen Snaith (BODC at NOC) is Head of the Seabed 2030 Global Centre
Jamie McMichael-Phillips (UKHO representative in Singapore) is the Director of Seabed 2030
Pauline Weatherall (BODC at NOC) is the GEBCO Digital Atlas Manager
Data has been provided by BAS (UK Contact: Robert Larter), BODC and NOC (UK Contact: Pauline Weatherall) and the UKHO (UK Contact: Samuel Harper)
Seabed 2030 funded Crowdsourced Bathymetry pilot programme is being developed in collaboration with the UKHO (UK Contact: Andrew Talbot)
Data has been submitted to EMODnet Digital Bathymetry via the NOC, BODC and BGS
GEBCO has a number of groups, an overview of these and UK participation is found in the table below.
GEBCO Groups and UK Point of Contact

Group

Remit

Point of Contact

Organisation

Joint IOC-IHO Guiding Committee for GEBCO

 

To oversee the work of the GEBCO sub-committees and working groups.

 

Samuel Harper (IHO appointed member)

UKHO

Designated authority for all technical matters relevant to the goals of GEBCO

 

Pauline Weatherall

BODC at NOC

To build a closer collaboration with regional mapping efforts and coordinate, as well as encourage, the incorporation of their compilations into GEBCO

 

Pauline Weatherall

BODC at NOC

To maintain and make available the IHO-IOC GEBCO Gazetteer of Undersea Feature Names

 

None

N/A

Sub-Committee on Communications, Outreach and Public Engagement (SCOPE)

To coordinate the communications, outreach and external relations strategy and activities conducted to support and raise awareness of the GEBCO Project and to complement the focused outreach activities of the Seabed 2030 initiative

Pauline Weatherall

BODC at NOC

Currently developing a technical reference book on how to create bathymetric grids

None

N/A

GEBCO has been funded by the Nippon Foundation to train a new generation of scientists and hydrographers in ocean bathymetry. The twelve month course, leading to a Postgraduate Certificate in Ocean Bathymetry (PCOB), is held at the University of New Hampshire, USA

Eloisa Jayne Barnett

Nippon Foundation/GEBCO Training Programme